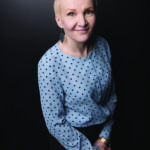 How do you define success?
I define success as being able to offer a solution to a customer need or problem that exceeds their expectations.
Tell readers about your role at Kemppi?
As the Vice President of Markets, I am responsible for global sales here at Kemppi.
How is everything at Kemppi, what does tomorrow hold?
Kemppi is doing well and we are quite happy about how far we have come. Next year marks our 75th birthday and it has been a journey filled with both challenges and rewards. We are now at the start of a new strategic period where we can take stock of our core competencies and build on these.
We are also fortunate to be able to partner with world-class dealers and distributors to sell our innovative, top quality welding equipment and safety gear, so the future looks very positive in our eyes.
How is Kemppi finding the present environment for doing business?
As with any other company at the moment, Kemppi recognises the volatility within today's markets. Europe is struggling to produce growth and the slowdown of the Chinese economy is also of concern. However, Kemppi is still recording healthy growth figures and these remain sound for 2024.
Where are growth regions for Kemppi?
Well, we have had very strong growth figures in Australia and New Zealand in recent years. The United Kingdom, Norway and Poland have also been doing really well, thanks to active investment schemes in these markets.
Technology – how does it assist with better products?
Technology assists with the development of better products in so many ways. It propels the continuous development of better hardware which is more precise, reliable and efficient. It has also given rise to welding software which can be combined with hardware to ensure quality welding processes and helped facilitate industry 4.0 management of total production systems. The arrival of AI will no doubt further drive the development of better products.
Staff – How is staff retention and how do you find the right people?
This is an excellent question. Commercially driven welding solutions sales people belong to quite a niche in the job market. I'd say it helps to be considered one of the top brands in manual welding. Nevertheless, we also want to make sure that the people we hire attain the same high quality and knowledge level that our customers have gotten used to when dealing with Kemppi. So, we spend quite a lot of time in the selection process, and use our vast partner network to help find the right kind of people.
Favourite book?
I don't know if it is my favourite book, but the latest one I read was Michael McIntyre's, A Funny Life, and it made me laugh.
Greatest inspiration?
Watching my 10-year-old daughter learn new things at school, off the Internet or wherever she gets her material from. If I can learn 10 per cent of the amount of new things her brain digests every day, I'm good.