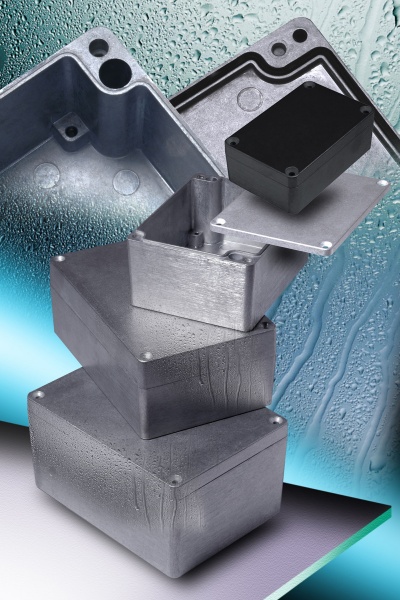 The latest addition to the extensive selection of die-cast enclosures from Hammond Manufacturing is the 1550Z family, a range of thick wall (3 to 4mm depending on size) IP66 sealed boxes for use in applications where impact protection and environmental sealing are primary requirements.
The 18 industry-standard sizes in the family range from 50 x 45 x 30mm to 223 x 147 x 83mm, and as standard they are supplied in either natural with a smooth vibra-finish or in a tough black polyester powder coated finish. Economically priced, the units offer outstanding value for money, achieved by multi-impression tools and automated machining and finishing during manufacture.
Environmental sealing is achieved through a combination of a tongue and groove construction and a pre-formed one-piece silicone rubber gasket; to ensure the integrity of the seal, the fixing screws are outside the gasket area.
Depending on the size, the lid is secured with two, four or six stainless steel machine screws going in to factory-tapped holes to aid repeated opening and closing; in six selected sizes with thicker lids, captive screws are used as an alternative. The bases have raised lands to facilitate PCB or component mounting; interior space is maximised with smooth walls and a shallow draught angle.
For securely attaching the enclosures to a surface if required, through-box blind holes are provided outside the sealed area.
NextSTEP
Contact: Hi-Q Electronics Ltd. Email: sales@hiq.co.nz  , Tel 0800 800 293
Hammond Electronics Pty Ltd
ABN 13 099 121 981
11 – 13 Port Road, Queenstown, SA 5014, Australia
Tel: +61-8-8240-2244 Fax: +61-8-8240-2255
Email: ccookson@hammfg.com https://www.hammondmfg.com