New Zealand expects to benefit from commitments secured at the G20 Leaders' Summit, from the world's 20 biggest economies, to lift economic growth by an extra 2.1 percent by 2018.
In a communique released at the end of the weekend summit in Brisbane, the G20 group, made up of countries which represent 85 percent of global economic activity and 75 percent of global trade, said it had commitments from member countries to deliver an extra 2.1 percent of GDP by 2018.
"New Zealand, whilst a physical island isn't an economic island. To the extent that that's good for the global growth, it will be good for New Zealand" because it will enhance our ability to export to those markets, said Mark Adamson, who is chief executive of Fletcher Building, New Zealand's largest listed company, and the nation's representative on the B20 business group. "I see a lot of positive likely to come out of the communique."
The G20 commitments are slated to add US$2 trillion to the global economy and create millions of jobs as the countries focus on improving infrastructure and bolstering investment, trade and competition. New Zealand, which was invited to the G20 this year as a special guest of the Australian host, expects to benefit from a pick up in growth in the rest of the world.
"We've submitted a plan which is consistent with existing government policy and with existing growth forecasts so our plan won't be adding a lot to global growth, for a developed country we are already doing our bit," Finance Minister Bill English told reporters on the sidelines of the meeting. "The New Zealand economy is travelling pretty well relative to most of these other economies and so there aren't big obvious steps that New Zealand could take to add that much growth that quickly."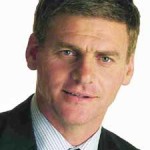 The New Zealand economy expanded at a 3.5 percent annual rate in the second quarter and Reserve Bank governor Graeme Wheeler has said he expects the local economy to expand 3.7 percent this year, supported by building activity, consumer spending and business investment.
English said the latest G20 aimed to get finance ministers and governments focused on structural reform to increase the productivity and efficiency of their economies rather than relying on stimulation from central banks dropping interest rates or printing money "which deals with the short term problem but doesn't actually lift long term growth rates."