New Zealand plastics manufacturers have long held a world-wide reputation for innovation, and the uptake of the latest technologies.
It is for this reason that many of our companies continue to excel on the world stage. Tasman Machinery is proud to supply many of these world leading organisations.
At EMEX 2018 Tasman Machinery (Stand 3005) will be running a live display of a Sumitomo (SHI) Demag all electric injection moulding machine, in combination with a Yushin 3 axis servo driven robot.NZM MEDIA KIT 2018
Features of the Sumitomo (SHI) Demag machine include the latest direct drive servo technology, to ensure the ultimate in accuracy, repeatability, energy efficiency, and durability.
Sumitomo's patented direct drive technology sets it apart from all its competitors and has ensured that Sumitomo (SHI) Demag is the No.1 selling all electric injection moulding machine across the globe, including here in NZ.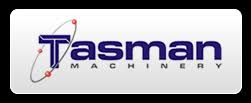 Included in the display will be the latest robot takeout technology from Yushin.
The YCII Series from Yushin combines many interesting features, including carbon fibre reinforced axis, design optimisation for weight reduction, and energy efficiency designs, to ensure the lowest running costs.