New Zealand family-owned and operated, Chemfreight is a specialised 3PL distributor offering the complete solution of hazardous, non-hazardous and separate dedicated food storage and chemical toll blending backed by a national transport network.
Started in 1989, it was the brainchild of Harry Price who, having worked in the chemical industry for many years, saw an opportunity and industry need for the specialist third party storage and distribution of hazardous goods.
Three years ago, his son Joseph Price, took the helm as General Manager bringing his well-rounded business experience following years in insolvency and accounting.
The business has undergone substantial changes and almost doubled in size from a staff of 40 to 80, and 100 clients to 200.
Chemfreight does not have a sales or marketing function and has used their reputation for operating class leading facilities and delivering an excellent 3PL supply chain service to attract new business and also retain their existing valued clients.
With their Head Office in East Tamaki, Chemfreight operates three Major Hazardous Facilities with two state-of-the-art storage facilities in Auckland and a large storage facility servicing the South Island located in Christchurch.
They process approximately 3000 inbound containers per year and store in excess of 20,000 pallets across nine warehouses. Next year construction is planned to commence on a specialised concrete walled and roofed store for flammable substances with a capacity of 5,000 pallet spaces.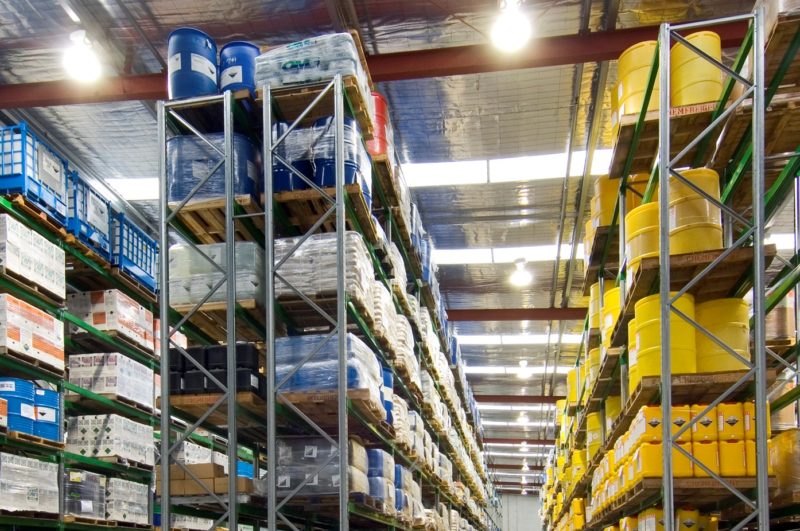 Low staff turnover
Many of the staff have worked at Chemfreight for years, and it is very much a family focussed business. "There are some families where as many as three family members are employed here as part of our team," says Joseph.
In an industry that sees a high staff turnover, Chemfreight has very low turnover. "Finding high calibre skilled staff is a challenge," says Joseph, "and we have worked really hard to attract and retain our team. This means investing in the best safety and handling equipment and listening to what our team needs, giving them as much choice as possible when selecting their work equipment from safety glasses, wet weather and hot weather gear, to work boots."
Joseph worked at Chemfreight in his high school and University years. "I have a good understanding of what is involved from the ground up and know the physical and operational challenges of the work," which is why he wants to ensure his staff are comfortable and have the most appropriate safety gear.
"We put employee welfare ahead of anything else and our team appreciate this approach," he says. Chemfreight has a diverse group of staff which, Joseph explains, "reflects our approach to employing on merit."
Joseph describes the company as a meritocracy, saying, "Everyone wears the same brand and are treated the same. Our people are respected for what they do here and their contribution to the business."
He believes that this environment is crucial to the success of the company. Joseph explains that the staff appreciate, "There is a clear progression for staff. Our team like to see there are opportunities for development within the business and consequently this is reflected in our low staff turnover."
Team training and wellbeing
The team's safety is paramount and in the last twelve months, Chemfreight delivered in excess of 2000 hours of training. "We also consider staff wellbeing outside of the workplace. We look after our people because we understand people have lives and challenges outside of work."
He explains that it is not safe to have distracted workers in their high hazard facilities, "There are some products here that if not handled correctly can be very harmful and possibly fatal."
Safety and compliance a priority
Chemfreight take pride in having a great compliance structure with six people devoted to compliance who are highly qualified in science fields such as organic chemistry and biochemistry. Joseph explains, "Not only do we understand what we store and handle, we understand what it can do to you, how to treat it, what to store it with and what not to store it with."
In addition to keeping the staff well trained, Chemfreight continuously undertakes risk assessments and review their safety procedures. They strive to exceed all legal and quality requirements. This has had the advantage of attracting new business.
The Chemfreight health and safety philosophy goes beyond their own facilities, with the company choosing to only work with transport partners who really understand the risk of what they do.
With family connections sewn into the business, a workplace injury or death would have extra consequences. Joseph says, "We have a culture here where people think about safety first. If someone has a different approach, they won't continue to be employed by us."
Another example of putting employee wellbeing first is the introduction of a policy to reduce loose load inbound containers.
Chemfreight aligned itself with WorkSafe best practice and made the decision to scale back these activities in order to avoid injuries and improve outcomes for workers.
"After informing clients and ensuring everything was palletised for health and safety, we have seen a fall in injuries arising from this activity as staff are no longer lifting heavy loads from above the head, back and shoulder regions."
Impact of traffic congestion
Chemfreight own and operate a fleet of 11 specialised trucks in its Metro Fleet with Dangerous Goods capabilities and certification. They are equipped with GPS monitoring and tracking and carry chemical pump over capabilities for hazardous and non-hazardous chemicals.
For the 3PL industry, transport margins are tight and congestion on the roads leads to rising costs. Delivery windows can be set by customers who then require inward goods at certain times and this creates additional time pressures.
Chemfreight currently distributes close to 2,000 tonnes of freight a week and provides DIFOT reporting to its customers.
Fortunately, Chemfreight have the versatility and flexibility to diversify into other services. They have a 'Toll Blending' service in which they manufacture chemicals, then store and distribute them through the Chemfreight network.
With the ability to blend up to 5,000 litre batches and with four blending tanks they can manage the whole supply chain from start to finish. They can also provide a service similar to fuel transfer in which they deliver the chemicals, pump them into the customers vessels, clean up and leave, taking away with them the drums and making it very easy for the end customer.
Joseph credits the success of Chemfreight to his team of 80 staff having a clear objective to ensure the team works together to achieve it.