RAM3D is a metal 3D printing facility and hi-tech manufacturing company 3D printing parts for a diversity of world-wide industries. They have been involved in additive manufacturing for 10 years and are based in New Zealand.
Throughout most of the world, two of the early adopters of 3D printing technology are the high-priced aerospace and medical sectors. This has limited the growth of the industry in other sectors because of the desire for the cost of 3D parts to be more cost effective.
In New Zealand there is limited medical and aerospace markets and RAM3D have focussed on the wider market to meet the price point to make it work. As a result, the market sectors engaged is much broader. The result is some very innovative products.
RAM3D Case Studies
One of these innovative products is firearm suppressors. RAM3D have been working in collaboration with Oceania Defence, an early adopter of additive manufacturing technology to 3D print the most advanced firearms suppressors in the world.

After rigorous design research and testing with Oceania Defence, they have the most desired outcome, a suppressor which is highly efficient, lightweight, compact and most important, cost effective.
RAM3D have been building drone engine parts for another company. The 3-cyclinder engine is built for a UAV (unmanned aerial vehicle) with a weight of 50kg and aircraft wingspan of 6 metres; it can fly to heights of 18,000 ft and has a cruise speed of 60 knots.

The parts RAM3D print for them cannot be manufactured any other way and are printed in Inconel 718 (a high temperature alloy) that require high precision especially where mass matters.

They have printed production runs of manifolds, exhaust mufflers, collectors and engine sumps.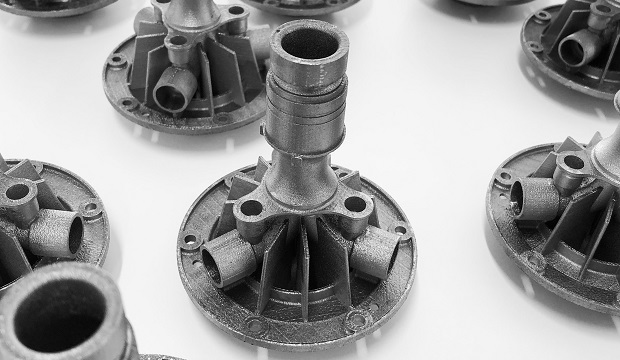 The advanced materials they use for additive manufacturing include:
Titanium 64 (Ti 6AI 4V) – the most common titanium alloy used for medical and aerospace applications. It boasts the highest strength to weight ratio of engineering metals and is extremely corrosion resistant.
Stainless Steel 15-5ph – provides high strength, moderate corrosion resistance and good mechanical properties at temperatures up to 316oC. It is a hardenable stainless up to 48 HRC. It is widely used in the aerospace, chemical, petrochemical, food processing industries.
Stainless Steel 316L – has excellent corrosion resistance in a wide range of media. This makes it particularly desirable for application where exposure to salt is an issue, it is mainly used in the food sector, marine and dairy industries.
Inconel 718 – is a nickel super alloy used for high temperature applications and is used in a variety of industries such as aerospace, chemical processing, marine engineering and oil and gas.
Aluminium (ALSi10Mg) is a typical casting alloy. It is perfect for applications that require a combination of good thermal properties and low weight. They can be machined, spark-eroded, welded, micro shot-peened, polished and casted if required.
Some FAQs asked by clients
Question 1 – How do you charge for 3D printing?
Answer 1 – the main driver for price is weight. Weight is based on the amount of material that the part has and as a result the amount of time the machine will take to turn the powder into solid.
Question 2 – What file format is best?
Answer 2 – We work the following file formats; iges, STEP, Parasolid etc and native Solidworks files. The software we use to do our lattice work requires an STL file, so a good quality STL file works well.
Question 3 – Can any part be selectively laser melted?
Answer 3 – Generally yes, although success in metal 3D printing depends a lot on the shape of the part. Parts that have intricate details which are difficult to machine or contain areas of curves and complex surfaces, lend themselves well to SLM manufacturing.
3D printing won't do everything, it is another tool in the toolbox just like casting and machining, however, when used well, it can create new products and achieve new goals.