Total CNC Products and Kitamura Machinery of Japan will showcase the new Mycenter 3XG at EMEX 2014.
"This will be the first time NZ industry will see the new model 3XG from Kitamura" say Rodney Oxford, Managing Director of Total CNC. We formed our relationship with Kitamura back in 1997 and sold many of the old Mycenter 3X machines especially into the toolmaking industry due to its exceptional accuracy. Over the years the 3X was replaced with the 3Xi and then the 3XiF models as technology moved and speeds got faster. The new 3XG takes things to a new level.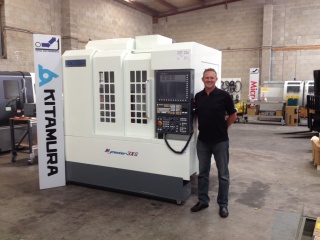 The new 3XG is designed and manufactured by Kitamura to offer exceptional value but without compromising what the world has come to expect from the Kitamura name. All Kitamura machines are still meticulously hand scraped on all mounted surfaces to achieve Kitamura 'TGA' or 'True Geometric Accuracy'. This TGA process forms the no compromise approach from Dr Akihiro Kitamura President of Kitamura Machinery says Oxford, all machines must be mechanically perfect and no geometric electronic compensation can be used on any Kitamura machine to adjust for squareness, parallelism or mechanical accuracy.
One of the features of the new 3XG is the new control system designed by Kitamura and Mitsubishi. The ARUMATIC controller is as powerful as it is friendly to use. It features a huge 19″ LCD screen and all high speed machining features are included as standard. The control unit swings out at 90 degrees ensuring comfort and great viewing for the machine operator.
The 3XG is designed for small to medium workpieces. It has travels of 760mm(X) x 455mm(Y) and 460mm(Z) the same as all the previous 3X models. A double contact BBT40 spindle of 15,000rpm is standard as is the 30 tool ATC. The rapid feedrates in X and Y are an amazing 50m/min.
We have already installed the first 3XG into New Zealand and the customer is extremely happy with the new machine and controller says Oxford. In fact they have ordered a second 3XG already!
The new 3XG will be on display at EMEX and Total CNC welcomes all visitors to Stand 4066 to inspect the quality of Kitamura. According to Oxford the other factor that will amaze with the new 3XG is the very competitive price!